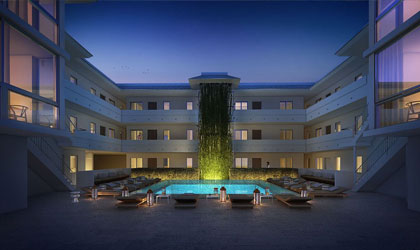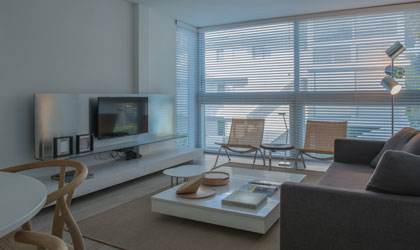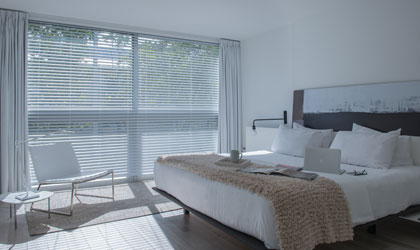 Located in the luxurious island of Key Biscayne, Florida, Beach Haus Key Biscayne is a contemporary 3-story apartment building exclusively used for short-term vacation rentals. A two-minute walk to the beach and close to the 5-star Ritz Carlton Hotel positions this property as the leading short-term apartment rental option in the island. Beach Haus Key Biscayne has been completely refurbished and its commercialization began in 2015, with huge success. While each building will be different, Beach Haus Key Biscayne is the type of building we aim to replicate in our rental portfolio and has been a flagship release for Interstar Services.
Following our philosophy of contemporary, modern and comfortable setting our rooms at Beach Haus Key Biscayne, as well as all of our future buildings, offer full amenities with a minimalistic and modern design. Our one and two bedroom apartments range in size from 400 sqft to 850 sqft.
For more information about Beach Haus and reservations, please go to Beach Haus Key Biscayne.
The following list includes some of the amenities currently available at Beach Haus Key Biscayne and in other buildings in the near future:
100% Non-Smoking Guest Rooms
In-Room Safe
Throw Pillows
Work Desk
Individual Climate Control
Kitchen facilities with full dishes and silverware.
Iron and ironing board.
Beach umbrellas and chairs.
Smoke detectors and sprinklers.
Tea and coffee maker.
42" flat screen TV with cable/satellite service.
Cordless telephone, CD/DVD player, iPod cradle/stereo
Internet / Wi-Fi on the apartment and the common areas of the building.
Parking lot for all units.
Full maid service to clean entire apartment.
Towel service.
Swimming pool and fitness center.
Concierge service.
Golf cart / transportation to the beach.
Transportation to Miami International Airport.